●

28.12.2016 - We received news and photos from Chewie (SeaLords Midnight Cowboy) and Loretta (SeaLords My Oh My), from our litter 'M', born last year.
●

13.12.2016 - Show debut for Jose (SeaLords Power of Love) on the Helsinki/Finnish Winner Shows. He received great reports but was placed second on both days and, looking at the pictures, one wonders why ... Jose is looking really nice, compact body with lots of bone and substance and a super ground covering movement. Thank you to his owners, Kirsi and Jenni Lönnroos for taking such great care of him, we wish them lots of fun in the show rings with this boy in the future!
●

01.12.2016 - With the show season coming to an end we can announce that Charlie is Top Dog in Portugal for 2016 and thus is now Ch (PT, ES, GI, Iber, IB) GrCh PT SeaLords Quantum Leap PW'LW16 BOB15'16!
●

20.11.2016 - A happy surprise in this rainy day: we received news from Nonô (SeaLords Sweets for My Sweet), litter sister of our Zoe. At 9 years old she has always been healthy and still has the energy of a puppy (yes, we know, same as Zoe ...)
●

16.11.2016 - Our babies from litter P have just completed 6 months, and everything is now running smoothly. In Finland, Jose (SeaLords Power of Love) keeps stealing hearts and will soon debut in the show rings, he looks really good.
●

23.10.2016 - Started Jodie's show page. Promising debut for your youngster Jodie (SeaLords Paper Moon): Best Baby in Breed and then selected (top 7 Babies) in the finals for Best Baby in Show. She behaved well for one so young, despite the lack of show training, and was not impressed with the surroundings so we hope to have fun in the show rings with this girl in the future!
●

21.10.2016 - Happy birthday to Charlie (Ch. SeaLords Quantum Leap) and Purdey (Ch. SeaLords Quality Time) on their 4th birthday!
●

10.10.2016 - Updated Charlie's show page. Last show this year for Charlie, with another BOB, and all objectives for this year fulfilled. Now a deserved rest.
●

06.10.2016 - A beautiful photo of Duna (SeaLords Ebony and Ivory), mother of our sweet Zorra, enjoying life, one day at a time. She will soon be 15 years old!
●

22.09.2016 - Updated Charlie's show page. We were at Gibraltar to try to finish the championship that we started last year and it went better than we could have hoped: CAC, CACIB, BOB and selected in the Group! We have thus achieved all the titles that we were seeking for Charlie this year (GrCh PT, Ch Iber and now Ch GI). Very proud! [full results]
●

11.09.2016 - Happy birthday to our litter Y on their 5th birthday!

SeaLords Yummy Yummy Yummy

(Samtosha)

SeaLords You Can Do Magic

(Daisy)

Ch. SeaLords You've Got Mail

(Lightning)
●

26.08.2016 - Norman Harrison aus dem Elbe Urstromtal, father of our last litter (litter 'P'), wins CAC, CACIB and BOB at the European Dog Show held in Brussels and thus adds the title of European Winner 2016 to his name. Congrats!
●

01.08.2016 - With our "maternity leave" soon coming to an end, it's time we introduce our new family member: see Dogs at Home.

●

17.07.2016 - Updated Charlie's show page. Now that the puppies are ready to leave, we took Charlie (Ch. SeaLords Quantum Leap) to the Lisbon shows, where he had a successful weekend, adding 3 more titles to his name: Lisbon Winner 2016, Grand Ch PT and Iberian Ch!
●

19.05.2016 - And we have new little fur balls, born on the past sunday. Soon we will start the page of this litter (litter P), and will add photos regularly. Come back and watch them grow!
●

06.05.2016 - Norman Harrison aus dem Elbe Urstromtal, father of our next litter, wins BOB at Dortmund, and thus adds to his name the title of VDH EuropaSieger 2016!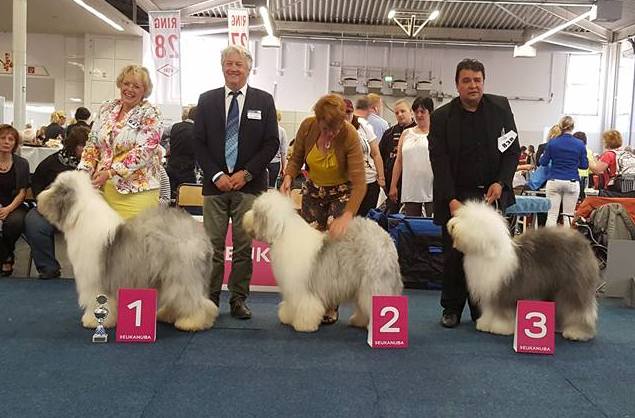 ●

25.04.2016 - Loretta (SeaLords My Oh My) came to see us. She's developing nicely and is a very happy girl.
●

18.04.2016 - Back from the Caldas da Rainha shows with Charlie (Ch. SeaLords Quantum Leap) and mission accomplished: 2 x 1. Exc, 2 x BOB and 2 x selected in the Group (top 6 dogs)!
●

13.04.2016 - We received some new photos from our little Rose (SeaLords Moon River), living in Finland with Kirsi and Jenni Lönnroos (kennel Furry Drifter's). We are happy with the way Rose is developing - and she sure is having fun!
●

12.04.2016 - And we can finally inform that we are expecting puppies next month! More information on our litter page.

●

06.04.2016 - I'm not much of the kind of being pushy with my dogs' owners, so when I see that everything enters "cruising speed" and there is nothing new worth of reporting contacts get naturally scarce and eventually completely stop. However, they know that I will always be there for them, and having an active website they can always find my contact (in case they have lost it, as we are still living in the same place for two decades now) and reach me whenever they want.

Willie (SeaLords Fresh Prince), from my first and only litter with both parents bred by me (Ch SeaLords DragonHeart x Ch SeaLords Eight Days a Week) (litter F), was a very special puppy to me but my plans at the time didn't include having a second male at home, so I had to Iet him go. After a year or so I stopped having direct contacts with his owner. However, I received throughout the years news of him through people that had met him on the street and fell in love with the breed because of his super temperament and wanted a puppy just like him - what more could you ask as a breeder?

Yesterday I got a surprise in my e-mail - his owner sent me some new photos! So here he is, Willie, 12.5 years young and being loved by his family, brought tears to my eyes ...
●

08.03.2016 - After proving herself in the show rings, where she gained several Champion titles, Purdey (JCh.(Lux, NL) Ch.(Lux, D-DOESC, D-VDH, NL, IB) SeaLords Quality Time for Youandi) is now proving her worth in the whelping box. Ten beautiful, healthy, big, fat puppies have been born in the Youandi kennel during the weekend! Purdey is a great mom, and puppies are growing well. We will sure watch how these puppies will develop.
●

05.02.2016 - Freshly arrived!
●

01.02.2016 - Some more news from up north. Our youngster Rose (SeaLords Moon River) was at Lithuania for the weekend, and again she received very good comments from the judges. Rose is developing very well and we wish her owners Kirsi and Jenni a lot of successes in the show ring, now that she is going to enter the Junior Class.
●

25.01.2016 - Start of the show season after a 3 month break for Charlie (Ch. SeaLords Quantum Leap) with the Porto shows, with almost all the objectives fulfilled: 2 x 1. Exc in the Champion Class, valid towards his GrCh title, with CACIB and the title of Porto Winner 2016 on the saturday. Only missed the CACIB on sunday - judge said he was lazy on the move, and preferred the "sprinters" ...
| | |
| --- | --- |
| At the show, after the judgement | Relaxing at the hotel |
●

20.01.2016 - Another weekend of showing for Rose (SeaLords Moon River). She is developing very nicely, and she's receiving some very nice comments from judges and breeders, just needs time for coat to grow.
●

13.01.2016 - Just received this photo of Duna (SeaLords Ebony and Ivory). Duna is a litter sister to our Blossie, that we lost last July, and mother of Zorra. Glad to hear that she is still going strong at 14 years old, and still behaves like a puppy, stealing slippers and the cat food!
●

10.01.2016 - It seems that nothing is happening and all of a sudden there are many news! This week the postman brought me and Pascalle Kuijpers the Champion diplomas of the littermates Charlie (Ch. SeaLords Quantum Leap) and Purdey (Ch. SeaLords Quality Time for Youandi). Not really a novelty but it is always nice to see in paper the confirmation of the championships.
This weekend, their niece Rose (SeaLords Moon River) had her show debut. She was entered in an unofficial puppy show, just to get used to it, and it went very well: she wasn't impressed with the surrounding atmosphere, she licked and hugged the judge, and got a 1st place with a good report. Well done Jenni and Rose!
Finally, sister Cookie (SeaLords Magical Mystery Tour) came to spend the weekend with the family and have some grooming, after spending a whole week in a farm, playing in the mud ... After a good bath and some "elbow grease" she recovered her good looks! She is a very cobby and sweet bitch, always wagging her tail, and is already barking madly like all the rest of the gang on their wild chases!
| | |
| --- | --- |
| Before | After |